SAP Visual Intelligence: Self-Service Dashboards for Business Analysts
By: Clare Plaisance Posted: July 25, 2012 Category:
SAP News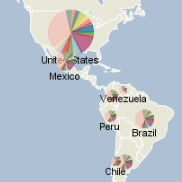 Data visualization, especially rapid, self-serve, interactive data visualization, is becoming an increasingly important tool for businesses, as evidenced by the success of new niche firms such as Tableau and QlikTech.
SAP aims to answer the rising demand for self-service data visualization through its newest addition to its portfolio of analytic dashboard tools, SAP Visual Intelligence. Known as Project Hilo while it was under development, SAP Visual Intelligence was originally released during the May 2012 SAPPHIRE NOW event, and a new version, 1.0.1, quickly followed with the July 17 release of Feature Pack 3 for BI BusinessObjects 4. Two more releases are planned for this calendar year.
In power and complexity, SAP Visual Intelligence lies between the dashboards that are typically composed by professionals, such as SAP BusinessObjects Dashboards (formerly known as Xcelsius) and SAP Zen, and the self-service web and mobile tools of SAP BusinessObjects Explorer. SAP Visual Intelligence is part of the SAP BusinessObjects Explorer family, but while BusinessObjects Explorer allows for data exploration and visualization via a web service or through a mobile app, SAP Visual Intelligence is a desktop application installed locally on a PC. While Visual Intelligence shares the look and feel of the web and mobile BusinessObjects Explorer applications, it has the ability to create more advanced visualizations and allows the user to manipulate data and merge tables.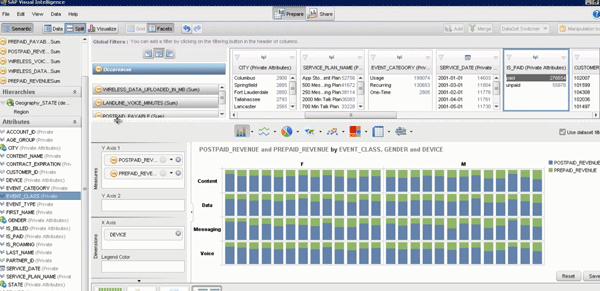 SAP has designed Visual Intelligence to be very fast. The initial release, 1.0, could only connect to SAP's extremely fast in-memory HANA as a data source. The second release, 1.0.1, has expanded the data source options to local spreadsheet files such as those in CSV or Excel format. Those who want to use SAP BusinessObjects Universes or traditional disk-based databases as data sources for Visual Intelligence will have to wait until later this year.
While BusinessObjects Mobile and BusinessObjects Explorer for iPad might are targeted toward the busy executive on the go, SAP Visual Intelligence has been designed for the analyst who needs to make sense out of business data, but does not have knowledge of scripting. After little or no training, analyst users are able to create a wide variety of visualizations, including geographical ones, without writing any lines of code.
Once a visualization or dashboard is complete, the user can share it with colleagues via SAP StreamWork, as of version 1.0.1 of Visual Intelligence.
Aside from support for more data sources, other features planned for future releases of SAP Visual Intelligence include more visualization types, support for more languages, and more integration with Business Objects Explorer web and mobile.