Project Teams 360
More and more organizations are taking ownership of their SAP systems and managing their own projects. Often, these organizations need additional SAP staff for their projects but require more than what traditional SAP consulting and staffing firms can offer.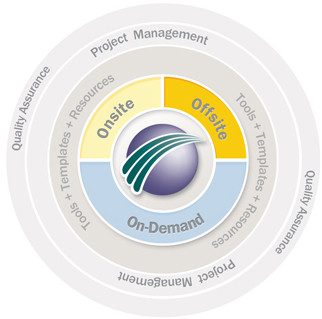 BayForce's Project Teams 360 is a comprehensive solution to staff and deliver your projects across the entire SAP landscape. Whether you need a single Platinum-level, U.S.-based SAP resource who can complete a small project, niche SAP experts to fill in gaps on your team, or an entire SAP project team, Project Teams 360 can meet your staffing needs.
As your SAP Partner, BayForce will work to ensure successful delivery throughout the project lifecycle. Beyond SAP Consultants, we offer additional services through Project Teams 360 that can add value to your project: Tools + Templates + Resources, Project Management, and Quality Assurance (QA).
Scope
Project Teams 360 provides you with Platinum-level, U.S.-based SAP resources across the entire functional and technical SAP landscape in the quantity and skill sets you need.
SAP Staffing Models
Onsite: BayForce delivers any needed local SAP consultants directly to your facility.
Offsite: Remote SAP Resources are available to you as you need them. (Additional rate reductions are available for this model.)
On-Demand: Gain access to resources for unplanned needs at a moment's notice.
We can customize any combination of Onsite and Offsite delivery to fit your specific needs.
SAP Tools + Templates + Resources
BayForce's official relationship with SAP as a Certified SAP Services Partner gives us access to resources that help us deliver your project successfully, such as SAP Best Practices. Our clients benefit not only from the tools and templates we have received from SAP, but also the ones we have developed in our 16 years of SAP experience.
SAP Project Management
To those organizations that need assistance in managing a project as well as additional staff for that project, BayForce offers two levels of SAP Project Management with Project Teams 360. You may find one a better fit than the other depending the level of autonomy you desire.
Shadow Management: You manage your own project while allowing BayForce to provide shadow oversight to ensure your project stays on-schedule and on-budget.
Turn-Key Project Management: BayForce provides complete SAP Project Management and oversight. Our SAP Project Managers typically have 10+ years of SAP Project Management experience, as well as a wealth of industry experience, and are adept in managing timelines and budgets.
Quality Assurance (QA)
BayForce provides SAP project oversight and governance to add additional control over your projects through each stage of the product lifecycle.

---
If you would like to learn more about our SAP Project Management and SAP Consulting services please email us or give us a call at 877-642-4727.