Basis 360

Basis 360 is the complete support solution for your Basis/Netweaver operations available at a monthly fixed price. This service allows you to free up internal bandwidth and supercharge your current Basis team.
Basis 360 provides everything needed (see comparison matrix below) to manage your SAP environment to industry best practices while providing the uptime, performance, and stability needed to protect your SAP investment. Basis 360 is the complete solution for your SAP Basis/Netweaver operational needs and includes the following services supporting your SAP Basis/Netweaver environments:
24/7 Emergency Support for your Production Environment
Thorough system monitoring by seasoned experts
Detailed and useful reporting over your entire SAP environment
Proactive troubleshooting and error resolution
Transport management integrated directly into your Change Management policies
Expert performance tuning
Regular best practice system maintenance
Support stack applications
Client copies and Landscape refreshes
100% U.S.-based, Platinum-level SAP resources
Best practice system backup strategies and more…
Click here to see a full list of services offered as part of Basis 360.
Basis 360 ensures "Steady State Operations" of one or more SAP landscapes by a dedicated U.S.-based, support team. Your SAP environment is fully managed with auditable reporting by our Platinum-Level, U.S.-based resources assembled to fit your specific needs.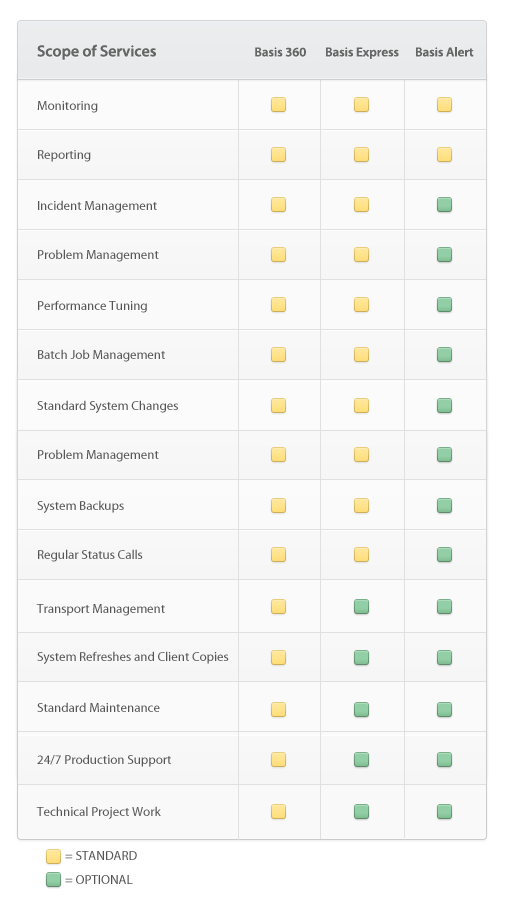 Email us or give us a call at 877-642-4727 to learn more about BayForce SAP Managed Services and how it can benefit your organization by improving the stability of your SAP environment, decreasing project completion time, and lowering the total cost of ownership of your SAP system.