SAP is developing a new GUI (graphical user interface) customization tool currently known as Personas or SAP Screen Personas. Personas allows IT departments and even individual SAP users to customize their screen layouts in the SAP GUI through an intuitive drag-and-drop interface.
SAP has immense power to process and integrate the operations of a company in nearly every quarter, but it is always a challenge in software design to balance a multiplicity of functions with ease of use. While experienced SAP Power Users or Super Users generally know how to find what they need and get their work done quickly within SAP, less experienced users can become confused when encountering non-standard situations.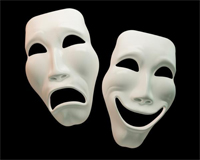 As they are exposed to ever-slicker user interfaces in the consumer world (e.g. apps on the iPad) users become less patient with elements in the SAP GUI that are not intuitive, or that require multiple clicks to execute a single action.
Since user adoption and efficiency in use are necessary for a company to get the most out of its SAP system, SAP's Imagineering team has been working with six SAP customers to create an easier way to make SAP's GUI more manageable for users. The solution they have been developing is SAP Personas, which allows any user with the requisite permissions to make changes to SAP screens through a drag-and-drop interface.
Personas can be used to hide fields that are never used, rearrange fields in a way that better fits a business process, create quick launch buttons, or add personalized graphics. Through SAP Personas, users can personalize the SAP UI to make it more intuitive, aesthetically pleasing, and streamlined to fit their workflow.
SAP Personas is not the first tool for SAP UI customization, but the SAP Imagineering team aims to create a product that makes it easier to customize SAP screens. It is possible for a developer with knowledge of ABAP and SAP's back-end systems to customize SAP screens by writing custom code into the system. GuiXT, a partner solution which sits on top of SAP and can customize SAP screens, can require a significant amount of scripting. Floor Plan Manager can make it easier for developers to create user interfaces for Web Dynpro applications, but requires technical SAP knowledge.
SAP Personas, however, is designed to be easy enough for a user without any technical knowledge of SAP or ABAP to customize SAP views to better follow a specific business workflow.
SAP Screen Personas should be generally available from SAP later this year or early next year.