As of the SuccessFactors acquisition earlier this year, SAP now owns two enterprise social collaboration platforms, StreamWork and Jam. Though SAP has established a roadmap for overlapping HCM applications, designating that SuccessFactors tools will be the products for the cloud and SAP's own client-server applications will be the products for on-premise deployments, the future of StreamWork and Jam remains uncertain.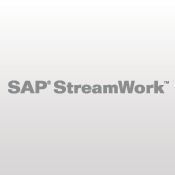 SAP developed StreamWork as a software-as-a-service using open source tools. The application's tools are focused on enabling collaborative decision-making. Along with general social networking features as profiles, activity feeds, and groups, SAP StreamWork offers features that specifically support desicion-making processes such as agenda and timeline tools, collaborative pro-con tables, polls and voting, and SWOT tables. Recently, SAP added a collaborative process modeling tool to StreamWork.
SAP made StreamWork generally available in March 2010. Since then, SAP has added native integration with various SAP applications such as CRM, PLM, and Strategy Management. Most recently added a feature to StreamWork that allows users to view and discuss SAP analytic dashboards from within StreamWork.
StreamWork's OpenSocial and REST based APIs allow it to integrate with a wide variety of third party tools as well. For example, StreamWork supports close integration with Google Apps, allowing users to log in to StreamWork from Google Apps, and enabling Google Doc sharing from within StreamWork. Integration with Scripd allows users to read Microsoft Office Documents directly within StreamWork. StreamWork also connects with Evernote, Box and many others.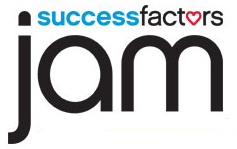 SuccessFactors Jam came on the enterprise collaboration scene a little later than StreamWork, debuting in October 2011, not long before SAP announced that it would acquire SuccessFactors. SuccessFactors built Jam as a fusion of two acquired products, CubeTree and Jambok. Jam gets its overall framework, including profiles, feeds, wikis, blogs, polls, and file sharing, from CubeTree and its content-creation tools from Jambok. The tools from Jambok allow users to record webcam videos or video screen capture from within Jam.
Jam integrates with SuccessFactors' learning management system, supporting formal training, as well as informal peer-to-peer training through videos, wikis and other content. Jam also integrates closely with SuccessFactors' onboarding processes and performance review system. Jam's most prominent third-party integration is with Microsoft SharePoint.
Jam and StreamWork certainly have different strengths. Jam's content creation and sharing tools make it a useful tool for formal and informal learning, while StreamWork's tools optimize it for collaborative decision making. Areas of overlap, however, include the basic structure of the applications (both are cloud platforms centered around users with profiles and various activity streams), support for viewing documents of various formats directly within the collaboration platform, and mobile applications.
As matters stand currently, it would be possible for two departments in the same company to deploy different SAP collaboration platforms which are not currently integrated. In the areas where enterprise collaboration applications have been the most successful such as finding experts, improving collaboration between departments, and reducing volume of email, however, a unified platform has more potential to produce positive results.
SAP certainly has an opportunity to integrate the complementary features of Jam and StreamWork in a way that will provide more value for enterprises. Though SAP has not announced how this will take place, Holly Simmons, a Senior Director of Marketing at SAP, disclosed that teams are working on bringing the two different platforms together based on specific use cases. It is possible that both platforms might remain with integration points between them to support specific use cases. It is more likely that the complementary features of one will be absorbed into the other. Gartner Research Director Sunil Padmanabh has predicted that SAP will import features and functions of Jam into StreamWork. On the other hand, SAP has indicated that Jam is here to stay, at least in association with the learning management portion of SuccessFactors talent management suite.
Despite the current uncertainty surrounding Jam and StreamWork, it is clear that SAP devoting resources to solving the problem of enterprise collaboration. SAP's March hire of Sameer Patel, well known and respected in his field as an expert in enterprise collaboration, as Global Vice President, Enterprise Social Software makes it more likely that SAP will be able to deliver a unified collaboration platform.