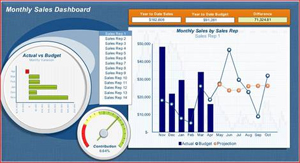 The rise of the iPad as a preferred device for viewing business intelligence dashboards, SAP's choice of a "mobile first" strategy, and the demise of mobile Flash caused some to question the future of the popular dashboard design software Xcelsius (renamed SAP BusinessObjects Dashboards). Dashboards built with Xcelsius are based on Adobe Flash and consequently will not display on any iOS device, and in a few years, when Mobile Flash reaches the end of its life, Xcelsius Dashboards will not be compatible with any new mobile devices at all. Without a serious overhaul to Xcelsius, the end of the Mobile Flash era would mean the end of Xcelsius as well.
In order to clarify plans for Xcelsius in particular and SAP BI Dashboards in general, SAP published a Statement of Direction and hosted a webinar with Mico Yuk, an SAP Mentor and fierce advocate of Xcelsius software.
SAP's Steve Lucas revealed earlier that an HTML5 version of Xcelsius should be coming this year, but in the Statement of Direction and associated webinar, SAP was more specific about its plans for this conversion. The conversion will take place in two phases. In the first phase, anticipated to come about sometime around the end of 2012, SAP Dashboards/Xcelsius will get HTML5 support for the most commonly used dashboard components. In the second phase, SAP Dashboards will receive HTML5 support for less commonly used dashboards. HTML5 versions of Xcelsius Dashboards will make them compatible with the vast majority of mobile devices.
SAP's long-term plans, however, indicate that the addition of HTML5 support is likely to be the last innovation that Xcelsius/SAP BusinessObjects Dashboards will see. SAP will focus its attention on Project Zen, also known as SAP BusinessObjects Analysis, Edition for Application Design. Zen is a new toolset under development by the Analysis team, which also worked on SAP BusinessObjects Analysis, Edition for MS Office, and SAP BusinessObjects Analysis, Edition for OLAP. Zen will be a group of technologies, composed of a semantic layer, a runtime environment, and a design environment. Zen is designed with mobile devices in mind, and renders applications and dashboards directly into HTML5.
At first, Zen will only support SAP HANA and SAP BW as data sources. This first version of Zen should be a viable replacement for another of SAP's dashboard tools, SAP BEx Web Application Designer. In the next phase of development, Zen will absorb much of the functionality in Xcelsius/SAP BusinessObjects Dashboards. Zen will get all of the dashboard components that Xcelsius has and, like Xcelsius, will support some third-party plug-ins. It will also gain additional features such as annotations and dashboard bursting.
In the final phase of SAP's current roadmap for Zen, Zen's semantic layer will be broadened to include many types of data beyond SAP data. At this point, Zen will have all the functionality that Xcelsius has, except for Adobe Flash support, and will, in addition, be able to use HANA as a data source.
Convergence into Zen is the overall theme of SAP's roadmap for dashboards. SAP will put the useful features of Xcelsius and BEx Web Application Designer into Zen, add even more features, and seat them on a runtime environment that can access many different data sources and render visualizations in HTML5. Once the Zen architecture is complete, SAP will offer conversion tools to bring Xcelsius Dashboards and BEx Web Application Designer content over to Zen. The self-service solution Exploration Views will be brought onto the Zen runtime in the final phase as well.
SAP has reassured customers that they will be able to hold on to Xcelsius/SAP BusinessObjects Dashboards if they would like to. Nevertheless, Zen is the direction that SAP BI Dashboards are headed.