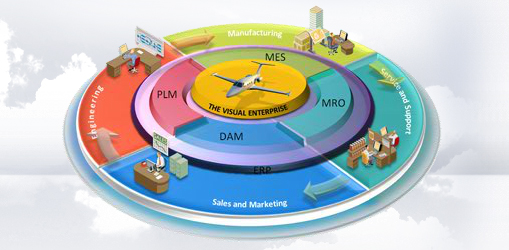 Last fall, SAP added Right Hemisphere, maker of visualization software that allows enterprises to manage and share 3-D and 2-D visual information, to its portfolio. Some integration work has been completed and SAP now offers three of Right Hemisphere's tools re-branded as SAP Visual Enterprise Applications.
Deep Server, Right Hemisphere's core product, has been renamed SAP Visual Enterprise Generator. This processing and publishing engine allows 3-D and 2-D visual information to be shared across the enterprise by transforming CAD or other 3-D models into many other 2-D and 3-D formats. Over 120 formats are supported.
Deep Exploration has been renamed SAP Visual Enterprise Author. This tool can be used to create and edit 3-D designs and animations.
SAP will offer Right Hemisphere's Deep View as SAP Visual Enterprise Viewer. Users of this application can view 3-D models and animations and collaborate with other users.
Right Hemisphere has had ties to SAP since 2007 when SAP Ventures bought a stake in Right Hemisphere. Since then, SAP had been using 2D and 3D visualization tools from Right Hemisphere in its PLM portfolio and had integrated Right Hemisphere's Deep View into its Complex Assembly Manufacturing Solution.
SAP will continue to offer its Visual Enterprise Applications as standalone products, and will also work to integrate them with more areas of SAP's ERP portfolio.
SAP's Visual Enterprise Applications can already merge visual information with text and other business data in SAP's PLM module. SAP's goal is to enable a visual enterprise that reaches beyond PLM to manufacturing execution systems, enterprise asset management and the rest of its ERP applications so that engineers, manufacturers, customer service representatives, trainers, and salespeople can collaborate on the basis of visual data.
Besides integration with more areas of SAP, integration of the Visual Enterprise Applications with mobile technologies should also be forthcoming. The ability to access visual product information from anywhere will surely make SAP's Visual Enterprise Applications more valuable to workers on the shop floor, field service technicians, salespeople, and anyone else who uses visual information and is not tied to a desk.