SAP, Android, and the Enterprise
By: Clare Plaisance Posted: March 23, 2012 Category:
SAP News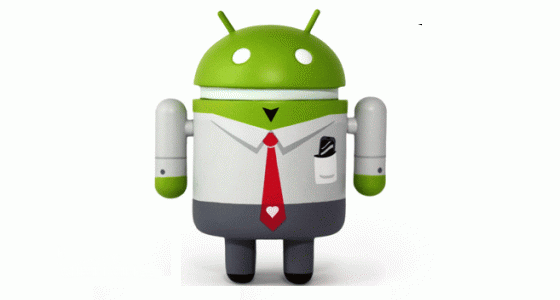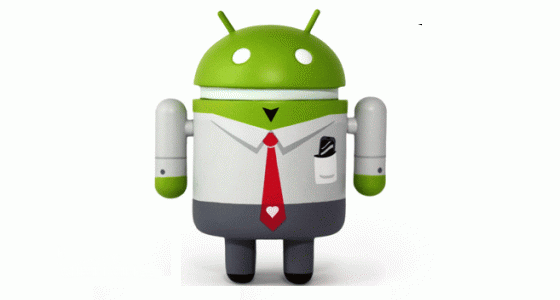 The Android mobile operating system has been an immense success in the consumer world, but has not caught on as well in the enterprise world. Although Android smartphones captured a majority of the smartphone market share worldwide in late 2011, iOS is by far the most common mobile operating system used in enterprises, even when tablets are discounted. Security and fragmentation have been major concerns for businesses in deploying Android devices, but Google, Android device manufacturers and carriers, and third parties, including SAP, are working to make Android more compatible with enterprise use.
Is it Safe?
IT managers have rightly worried about the security risks of letting Android devices into the corporate network. The Android OS did not have support for the secure IPsec VPN protocol, lacked mobile device management ability to track device or disable or wipe them in case of loss or theft, lacked hardware-level encryption, and had uneven software encryption. In addition, information-stealing malware that exploits Android's light security has become quite common and is easily downloadable not only from third party websites, but even from Google's Android Market.
In the face of slow Android adoption in the enterprise, Google has been making efforts to increase the security of its mobile platform.
The latest version of the Android OS, 4.0 a.k.a. Ice Cream Sandwich, Google introduced several important security features which can make the OS more compatible with enterprise usage. Ice Cream Sandwich supports mobile data encryption and a VPN application programming interface. Hardware-level security is improved through address space layout randomization, a crucial step in making Android secure enough for enterprises. Android 4.0 also allows developers to regulate access of the system key store by applications through the KeyChain feature, enabling more control by mobile device management software.
Google has also taken steps to remove malware from the Android Market (recently renamed Google Play). According to McAfee, all new malware for mobile devices is written to infect Android. The openness of the Android Market makes it easy for developers to register and post malicious apps for download. Google recently announced that they have implemented a tool named Bouncer that automatically scans apps in the Android Market for malware, and have since seen a significant decline in downloads of malicious software.
Device manufacturers are also working to make the Android fit for the enterprise. Motorola has built important security features, such as the IPsec VPN, remote wipe, password control, and mobile device management tool compatibility, into several of its smartphone models.
Samsung has forged a partnership with SAP to develop enterprise-grade security features in Samsung's Android smartphones and tablets. Oliver Bussmann, SAP's CIO, in pursuing a device agnostic mobile strategy, will test any device, even the Kindle Fire, for use at SAP. Although he found the security features of the Android-based Fire wanting, Bussmann believes that Samsung's Android devices have robust enough security and sufficient capability for remote management to be used in the enterprise without fear.
Samsung has optimized its Galaxy S and Galaxy S2 devices to work with Sybase Afaria, SAP's mobile device management software. Now even more security features are available with the Samsung-Afaria combination than are available when managing Apple's mobile devices. Sybase's fact sheet lists 85 features ranging from full device encryption to Bluetooth controls.
VMware has also been working with device manufacturers to develop virtualization tools to separate personal data from business data on a mobile device. This is an important step in securing business data on Android devices, especially ones used in Europe, where data privacy laws are quite strict.
Security on the Android platform is certainly improving, but fragmentation will continue to be an issue for enterprises with a Bring-Your-Own-Device policy. While Apple and RIM integrate their software and devices tightly together and deliver updates on a regular basis, Android runs on a multitude of different devices from Motorola's Droid RAZR to the Barnes & Noble NOOK. Every device manufacturer modifies the Android OS to support the particular features of the device, and when Google publishes a new update for Android, users are at the mercy of their device manufacturers to adapt and deliver that update.
The Ice Cream Sandwich update with its improved security features was released in October 2011, and now in March 2012, only 1.6% of Android devices are on that current release. Device makers continue to sell Android devices running older versions, most manufacturers have not yet finished adapting the new version to their specific hardware, and some devices will never receive the update.
Where are the Apps?
Android started from behind in the enterprise world due to the security issues outlined above and business apps for Android are still catching up with the variety of business apps on other mobile platforms, especially iOS. At this time, there are about twice as many apps in the Business category in the iTunes store (over 27,000) as there are in the Business category in the Android Market (fewer than 15,000). Most "Top Business Apps for Android" lists have so far been filled largely by general productivity apps rather than apps to assist workers with specific business processes. It simply had not been worthwhile for developers to make applications for Android that interfaced with other entities within the corporate IT infrastructure as long as such an interface would have posed a serious security risk.
Now that security on Android can support corporate IT requirements for security, SAP has developed its very first mobile app specifically for Android. The SAP Transport Notification and Status App, helps truck drivers to check on freight orders and routes. Although it remains the only Android app available among the 57 apps in SAP's Store for Mobile Apps, more business apps with support for Android should be available from SAP in the future.
SAP's Partners have been doing more to develop Android apps that interface with SAP. Of the 170+ applications in the SAP Partner Mobility App Catalog, about 50 have Android support. These Android apps cover a wide range of business areas, processes, and industries.
One business area where Android devices can be useful without specialized apps is in viewing Flash-based BusinessObjects dashboards. While iOS devices, which do not support Adobe Flash, require specific apps to display these dashboards, an Android user can view BusinessObjects dashboards in a portal using the device's internet browser.
Can Android Succeed in the Enterprise?
The experience of many companies shows that if employees can bring their mobile devices to work, they will, and the stats tell us that Android is the most popular mobile OS. Since its security issues are being worked out, Android is poised to surge in popularity in the business world, but several other factors must align to secure enterprise success for Android. Device makers must incorporate security features into their devices in order to get a critical mass of enterprise-ready Android phones and tablets into the hands of consumers. Developers must take Android seriously as a platform that can do business and make applications that are useful to executives, field agents, and knowledge workers. If secure Android devices become plentiful in the market, and enough business applications are developed to make Android widely useful in the enterprise, the force of Consumerization of IT will likely propel Android to become the rival of iOS in business.